Current spaces for hire
We have a variety of rooms available to social groups, not for profit organisations, small business and corporate groups.  When making a booking, we will ensure all groups or activities are in line with the vision of our organisation, that is to provide service to our community without discrimination.  We may ask some organisations for a copy of their public liability insurance when making a booking.
Purple Room
Meeting space suitable for a large meeting of 10 to 15 people
Suitable for workshops or group activities
Can combine with the blue room for lecture seating of up to 35 people
Air conditioned with access to a kitchenette, toilet facilities and technology
Portable chairs and tables provided
Disability access
Costs:
Unfunded groups - $10/hour
Not for profit groups - $28.50/hour
Small business - $45/hour
Corporate - $60/hour
Bernie's Place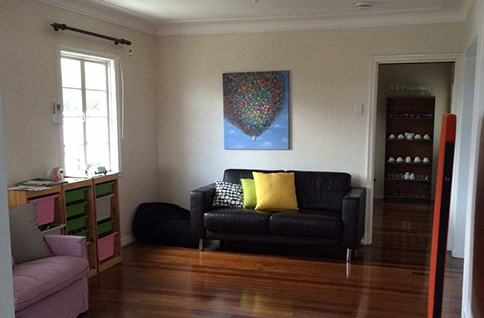 Due to planned construction work, Bernie's Place is unable to be hired.  Please check with us again in June 2020.
Meeting space suitable for a large meeting of 10 to 15 people
Suitable for workshops or group activities
Air-conditioned with access to a kitchen, toilet facilities and technology
Portable chairs and tables provided
Disability access
Costs:
Unfunded groups - $10/hour
Not for profit groups - $28.50/hour
Small business - $45/hour
Corporate - $60/hour